We are excited open preorders for our playmat design! When we decided to make a playmat, we were originally going to make a pile of dry-erase drawings, but then we had a thought: Instead of only using our own, why don't we include drawings from across the Magic community?
Over the years we have saved so many of the beautiful photos you have posted of your InfiniTokens. There were enough hi-res images to generate a lovely collection. We made sure to contact every artist we were using to get their permission.
We first revealed and sold the mats at the MTG Summit, and now we are offering them to everyone. The current design has a few minor changes than the Summit mat, see the preview image.
We have a decent archive of saved tokens and there was limited space, so if we didn't include one of yours it doesn't mean your drawings are any less awesome. If you want to have your drawings considered for a future mat, make sure to post or send hi-res photos and tag us so we can see!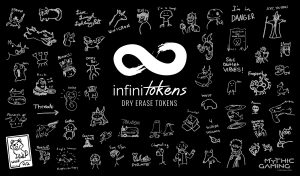 ————————–
Premium Playmat with Black Stitched Edging measures at 24″ x 14″ x 1/8″ thick
They are heavy-duty weighing in at over 410 Grams
Made with a smooth cloth top, thick, durable backing, and an amazing stitched edge
*Foiling process is durable, but extra care should be taken with these mats to retain their shiny awesomeness